Floors
Great selection of hardwood, prefinished, engineered and laminate floors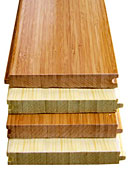 The growing number of manufacturers confirms their own certainty about the future of bamboo floors. More and more people are choosing this eco-friendly alternative to the more traditional hardwood flooring. A bamboo floor will give you the natural beauty of hardwood flooring in your home without having you feel that your decision to go with hardwood flooring is having a detrimental effect on our environment. This makes bamboo a very environmentally friendly product for flooring.
Please contact our office for more information.
items found. Click images to view larger picture.
Actual colors and nuances of flooring may vary from that represented in photography.