Floors
Great selection of hardwood, prefinished, engineered and laminate floors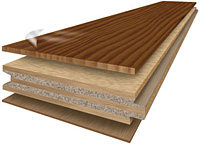 Engineered wood, too, is real wood. It is a sandwich of 1/16" to 1/8" of finish wood on top and non-finish plywood underneath. So, what you're looking at is 100% genuine wood. Engineered flooring provides great value in the long-run because it can be periodically sanded to revive the wood grain and erase scratches. Also, it works well in kitchens, basements, and bathrooms where light moisture might be present.
Please contact our office for more information.
items found. Click images to view larger picture.
Actual colors and nuances of flooring may vary from that represented in photography.