Floors
Great selection of hardwood, prefinished, engineered and laminate floors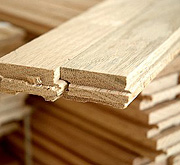 Today's wood floors come in more than 50 species, both domestic and exotic, spanning the spectrum of color options, hardness, and price ranges. No matter what the look you want to achieve, there are a variety of species to meet your needs. The appearance of the wood determines its grade. All grades are equally strong and serviceable, but each affords you a different look: clear (free of defects), select, common, first, second and third.
For more information open flooring fundamentals or contact our office.
items found. Click images to view larger picture.
Actual colors and nuances of flooring may vary from that represented in photography.